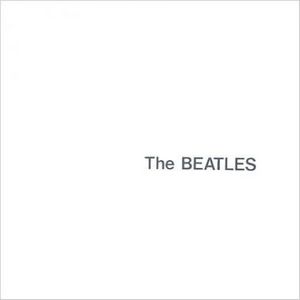 The Beatles
- The Beatles (White Album)
Apple
 (2008)
60s, Beat, General Pop, General Rock, Pop, Pop Rock, Psychedelic Rock, Rock
Dans la collection

#108
0*
 01
  Back In The U.S.S.R.
 
 
 
  02:43
 02
  Dear Prudence
 
 
 
  03:56
 03
  Glass Onion
 
 
 
  02:17
 04
  Ob-La-Di, Ob-La-Da
 
 
  PAUL
  03:08
 05
  Wild Honey Pie
 
 
 
  00:52
 06
  The Continuing Story Of Bungalow Bill
 
 
 
  03:14
 07
  While My Guitar Gently Weeps
 
 
 
  04:45
 08
  Happiness Is A Warm Gun
 
 
 
  02:43
 09
  Martha My Dear
 
 
 
  02:28
 10
  I'm So Tired
 
 
 
  02:03
 11
  Blackbird
 
 
 
  02:18
 12
  Piggies
 
 
 
  02:04
 13
  Rocky Racoon
 
 
 
  03:32
 14
  Don't Pass Me By
 
 
 
  03:50
 15
  Why Don't We Do It In The Road?
 
 
 
  01:41
 16
  I Will
 
 
 
  01:46
 17
  Julia
 
 
  Writers: John Lennon, Yoko Ono, Kahlil Gibran; lead vocal: John Lennon
  02:54
 01
  Birthday
 
 
 
  02:42
 02
  Yer Blues
 
 
 
  04:01
 03
  Mother Nature's Son
 
 
 
  02:48
 04
  Everybody's Got Something to Hide Except Me and My Monkey
 
 
 
  02:24
 05
  Sexy Sadie
 
 
 
  03:15
 06
  Helter Skelter
 
 
 
  04:29
 07
  Long, Long, Long
 
 
 
  03:04
 08
  Revolution 1
 
 
 
  04:15
 09
  Honey Pie
 
 
 
  02:41
 10
  Savoy Truffle
 
 
 
  02:54
 11
  Cry Baby Cry
 
 
 
  03:01
 12
  Revolution 9
 
 
 
  08:22
 13
  Good Night
 
 
 
  03:11
Date de sortie originale
22/11/1968
Numéro Cat.
7243 4 968895 2
Audio
Stereo

Parolier
Lennon/McCartney; Harrison; Starkey; John Lennon & Paul McCartney; George Harrison
Les Beatles se séparent officiellement en 1970, mais les Fab Four avaient alors cessé d'être un groupe depuis des années. Le processus débute dès Rubber Soul et s'accélère lorsque John, Paul, George et Ringo commencent à suivre leurs propres voies à cause de nombreux désaccords, et notamment de Yoko Ono. Au milieu de toutes ces disputes, ils produisent The Beatles, un chef-d'oeuvre épique qui égale Sgt. Pepper, même si son succès artis­tique provient plus du talent personnel et de la person­nalité de chaque membre que de leur collaboration.
L'album démarre par un rugissement et un crisse-ment de pneus d'avion, tandis que les Beatles modifient la formule des Beach Boys sur Back in the USSR. C'est un mélange de ballades acoustiques, comme dans Dear Prudence et Mother Nature's Son, et de contes comiques (Ob-La-Di, Ob-La-Da et Rocky Raccoon). Lennon et McCartney - désormais co-auteurs sur le papier seulement - produisent certaines de leurs oeuvres les plus durables avec Blackbird et Revolution 1, tandis que Happiness is a warm gun de Lennon est une mini-suite chantée. Cependant, While my guitar gently weeps, de Harrison, se détache nettement du lot.
II en résulte un album aux multiples facettes, qui s'est tout de même vendu à plus de deux millions d'exemplaires la première semaine, rien qu'aux États-Unis.