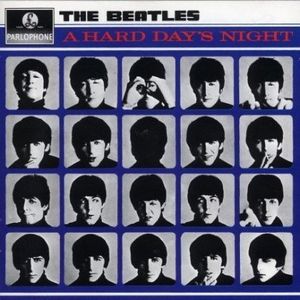 The Beatles
- A Hard Day's Night
Parlophone
Dans la collection

#105
0*
 01
  A Hard Day's Night
 
 
  From the soundtrack of the United Artists film "A Hard Day's Night"
  02:30
 02
  I Should Have Known Better
 
 
  From the soundtrack of the United Artists film "A Hard Day's Night"
  02:42
 03
  If I Fell
 
 
  From the soundtrack of the United Artists film "A Hard Day's Night"
  02:19
 04
  I'm Happy Just To Dance With You
 
 
  From the soundtrack of the United Artists film "A Hard Day's Night"
  01:57
 05
  And I Love Her
 
 
  From the soundtrack of the United Artists film "A Hard Day's Night"
  02:29
 06
  Tell Me Why
 
 
  From the soundtrack of the United Artists film "A Hard Day's Night"
  02:08
 07
  Can't Buy Me Love
 
 
  From the soundtrack of the United Artists film "A Hard Day's Night"
  02:13
 08
  Any Time At All
 
 
 
  02:12
 09
  I'll Cry Instead
 
 
 
  01:45
 10
  Things We Said Today
 
 
 
  02:36
 11
  When I Get Home
 
 
 
  02:16
 12
  You Can't Do That
 
 
 
  02:35
 13
  I'll Be Back
 
 
 
  02:20
Date de sortie originale
26/06/1964
Audio
Stereo

Parolier
Lennon McCartney
Ce qui paraissait être l'apogée d'une carrière n'était qu'un commencement pour les Beatles. Quelques semaines après que Meet the Beatles et leur second album se sont succédé à la première place du hit-parade américain, A hard day's night suit.
Pour la première fois, un album des Beatles ne com­prend que des chansons originales. Bien qu'attribuées à Lennon/McCartney, toutes sauf trois sont de Lennon, même si And I love her, Can't buy me love et Things we said today de McCartney prouvent que la qualité compense la quantité (il est intéressant de noter que c'est Buddy Holly, idole de Paul, qui avait le premier fait le pari de sor­tir un album entièrement original). L'album est néan­moins adapté pour le marché américain, des morceaux instrumentaux dirigés par George Martin remplaçant Any time at all, Things we said today, When I get home, You can't do that et I'II be back.
Dès l'ouverture de la chanson-titre, l'album illustre le concept d'une musique pop extraordinairement simple, à la guitare. Conscient des défauts d'auteur de son héros Elvis, Lennon insiste pour que le film A hard day's night soit plus qu'« un putain de film pop », et l'album qui l'ac­compagne obéit à des critères tout aussi stricts.
Certes, on y trouve des chansons banales comme l'm happy just to dance with you et Tell me why, mais elles sont compensées par les délicieux And I love her et If I fell. En même temps, des chansons rock comme A hard day's night et Any time at all auront un effet galvanisant sur les Byrds, futurs héros guitaristes (puis, plus tard, sur Tom Petty), et resteront influentes aussi longtemps que les adolescents continueront à s'emparer d'une guitare.