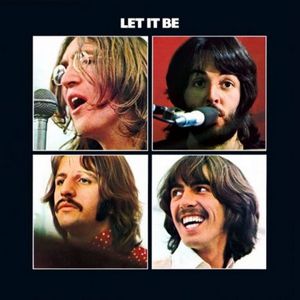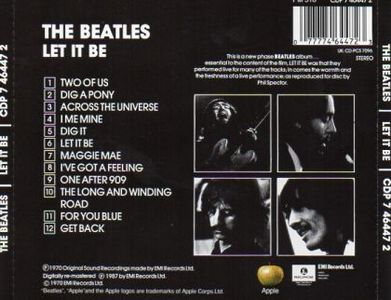 Apple
 (1990)
Beat, General Pop, Pop, Pop Rock, Rock, Rock & Roll
Dans la collection

#102
0*
 01
  Two Of Us
 
 
 
  03:36
 02
  Dig A Pony
 
 
 
  03:54
 03
  Across The Universe
 
 
 
  03:48
 04
  I Me Mine
 
 
 
  02:25
 05
  Dig It
 
 
 
  00:50
 06
  Let It Be
 
 
 
  04:03
 07
  Maggie Mae
 
 
 
  00:40
 08
  I've Got A Feeling
 
 
 
  03:37
 09
  One After 909
 
 
 
  02:55
 10
  The Long And Winding Road
 
 
 
  03:37
 11
  For You Blue
 
 
 
  02:32
 12
  Get Back
 
 
 
  03:07
Date de sortie originale
08/05/1970
Numéro Cat.
46447
Audio
Stereo

Parolier
George Harrison; John Lennon, Paul McCartney; John Lennon; Paul McCartney; John Lennon, Paul McCartney, George Harrison, Ringo Starr; Traditional arr. by The Beatles
"This is a new phase BEATLES album... essential to the content of the film, LET IT BE was that they performed live for many of the tracks; in comes the warmth and the freshness of a live performance; as reproduced for disc by Phil Spector.

Thanks to George Martin/Glyn Johns/Billy Preston/Mal Davies/Peter Bown/Richard Hewson/Brian Rogers.

Design by John Kosh. Photographs by Ethan Russell.

#75
CDP 7 46447 2
DIDX 2250
UK: CD-PCS 7096
© 1970/1987 EMI Records Ltd.

Original LP re-mastered using the "Doctor Ebbetts' Sound System".